THINGS TO DO ON THE OLYMPIC PENINSULA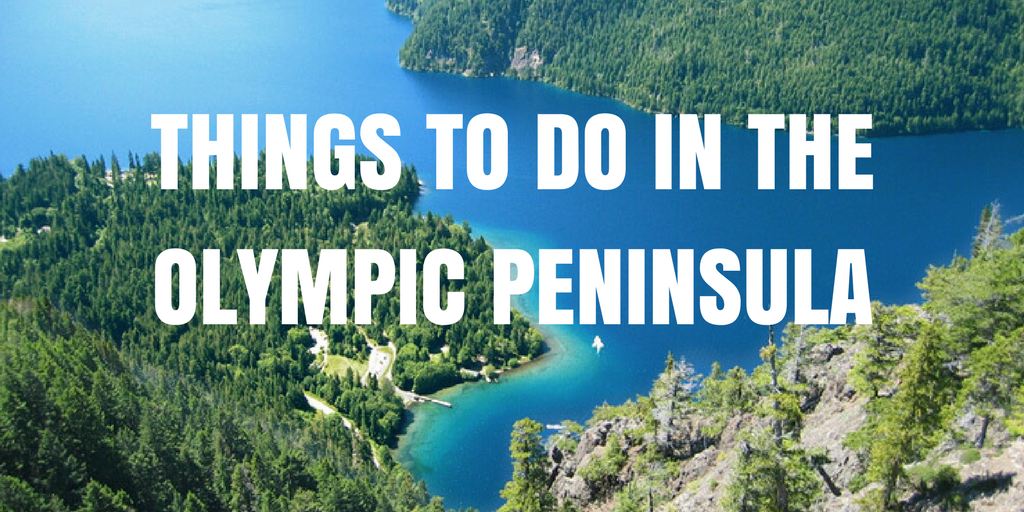 Welcome to the Olympic Peninsula!  As a friend often says, "some people save money and plan for years to visit this spectacular part of the country."  I'm lucky because I live here.  And, yet, I enjoy the gorgeous vistas, plentiful recreational opportunities, and culinary abundance as that traveler who passes through only once.  Whether you're visiting for the first time or returning for a more in depth exploration of this amazing corner of the U.S., here are some tips to get the most out of your stay and some of my favorite places.  Enjoy!
This article is packed with tons of fun stuff to do, see, and taste! Scroll down to read more on any of the following:
Getting to the Olympic Peninsula from Seattle

Port Townsend

Sequim

Port Angeles and the Olympic National Park

Victoria, BC and Beyond

Bicycling on the North Olympic Peninsula

Running on the North Olympic Peninsula
The Olympic Peninsula is on the west side of the Hood Canal and is most frequently accessed by traveling over the Hood Canal Floating Bridge, which is one of the five longest floating bridges in the world (fun fact: four of the world's longest floating bridges are in Washington state).  I find that my blood pressure drops and I relax as soon as I cross the bridge.  Perhaps you'll feel that sense of calm when you visit too.
The Olympic Peninsula is vast.  There are no roads through it.  Instead, US Highway 101 circles the outside of the Peninsula.  The traveling distances here are bigger than might appear.  Although the southernmost part of the Peninsula has towns and activities, and the western side of the Hood Canal has access to Olympic National Park hiking trails and small towns, this article focuses on what is commonly known as the "North Olympic Peninsula" which is the area between the Pacific Ocean and the Hood Canal.
The three largest towns on the North Olympic Peninsula are Port Townsend, Sequim, and Port Angeles (from east to west).  Each has their own unique characteristics and treasures.  Because they are each so different, I recommend that you visit all three.
Getting to the Olympic Peninsula from Seattle
Most visitors to the Olympic Peninsula arrive from Seattle.  To get there, take a ferry from Seattle to Bainbridge Island or Bremerton or from Edmonds to Kingston.  Once you get off the ferry, follow signs to the Hood Canal Bridge.  The distance to the Bridge from the Bainbridge Island and Bremerton ferry terminals is the same distance, although the ferry ride from Seattle to Bremerton is 30 minutes longer than to Bainbridge Island.  Travel time to the Bridge from the Kingston ferry terminal is shorter, but the drive from Seattle to Edmonds can be long, depending on traffic, and the ferry lines in Edmonds are usually longer.
Once you get to the Bridge, you are approximately 30 minutes from Port Townsend, 45 minutes from Sequim, and a little over an hour from Port Angeles.
Port Townsend is located on the Quimper Peninsula north of US Highway 101.  Follow the signs from Highway 101 to Port Townsend.  On the way, you will travel through a beautiful valley that is dotted with organic farms.  Jefferson County is known for its amazing food which includes organic farms and roadside farm stands, hard cideries, small breweries, wineries, cheese shops, seafood markets, and farm to table restaurants.  Whether you are looking for a place to dine in, pick up prepared foods for a picnic, or stock up on provisions for cooking, you are sure to find something good.
On your way to Port Townsend, you will travel through Chimacum.  Farm's Reach Café is an excellent place to stop for breakfast, lunch, coffee, and pastries.  There is outdoor seating, as well as a small seating area inside.  The Chimacum Corner Farmstand, located at the intersection of Center Road and highway 19 has local grocery items and some prepared foods.  The Chimacum Café is a long-time favorite for diner-style food and homemade pies.
Port Townsend is a unique, quirky, magical place.  Founded in 1851, it is an authentic Victorian seaport with the original Victorian stores, hotels, and homes, as well as a working harbor and the Center for Wooden Boats. This amazing small town boasts a series of festivals throughout the year from the Rhododendron Festival held on the third weekend of May, to the Port Townsend Film Festival in September.  In addition, there are lesser festivals and activities such as the Uptown Street Fair in June and the Kinetic Sculpture Race in October.  You can also usually find cultural activities at Fort Worden such as the Port Townsend Chamber Music Series in the summer, Fiddle Tunes, and several writing workshops at Centrum.
The downtown area of Port Townsend has several art galleries, small local shops, and interesting restaurants.  In addition, it is home to one of the best independent movie theaters in Washington.  The Rose Theatre is a true gem and is home to the Port Townsend Film Festival.  It consists of two screens in the main building and The Starlight Room on the top floor of a historic building next door.  The Starlight Room is a 21 and older theater that has a full menu of food and adult beverages.  Every showing sells out, so be sure to reserve your tickets online before you go.  If you're feeling more nostalgic, check out the Wheel In Drive In Theater near Highway 20 just south of Port Townsend.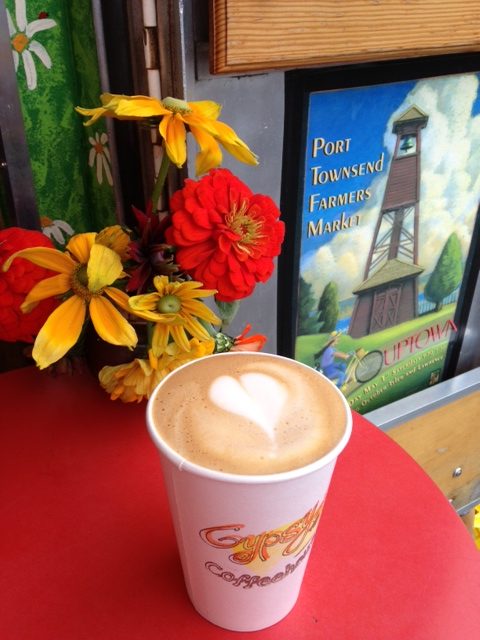 The "uptown" section of town is home to the best farmers market in Washington. The Port Townsend Farmers Market takes place every Saturday from April to December 9am-2pm.  Regular features include the prettiest organic fruits and vegetables you've ever seen plus, flowers, arts and crafts, and prepared foods.  My favorite thing at the market is a grilled salmon sandwich with a farm fresh fried egg from the Cape Cleare Salmon Wagon.  You can often find live music and guest chef cooking demonstrations.
Key City Fish Company is the very best place on the entire North Olympic Peninsula for fresh seafood and shellfish.  They also have local meat and poultry, as well as cheese, condiments, and seasonings.  They will pack your purchases on ice, in the event you are traveling further on the Peninsula.
You can find Mount Townsend Creamery cheese throughout the Seattle area, but why not stop by the flagship store in Port Townsend and pick up some fresh cheese?  You can also pick up picnic supplies.  Speaking of picnics, be sure to stop at Fort Worden when you visit Port Townsend.  Fort Worden was built as a military base with the purpose of protecting Puget Sound.  Today, it is the site of numerous community and cultural activities, as well as a great place to camp, picnic, swim, kayak, and hike.  You might recognize Fort Worden (and other parts of Port Townsend) as the location for the 1982 film "Officer and a Gentleman" starring Debra Winger and Richard Gere.
If you plan to visit Whidbey Island, you can take a ferry from Port Townsend to Coupeville on Whidbey Island.  Be sure to check the ferry schedules – and make a reservation if you plan to take your car.
Sequim is pronounced "skwim."  Take a look at this video to see how to pronounce and to learn more about my favorite town.
If you are traveling to Sequim after visiting Port Townsend, be sure to get there via Highway 20.  The views along that stretch of road are spectacular, especially if you are traveling during when the wild rhododendrons are blooming at the end of May.  If you are traveling to Sequim from the Hood Canal Bridge, just stay on the main road after you get off the Bridge.
Sequim is a small farming town situated between the base of the Olympic Mountains and the Strait of Juan de Fuca.   It has an active farming community where you will find small cattle farms, dairies, lavender fields, and organic vegetable farms.  It is the Lavender Capital of North America and home to the Sequim Lavender Festival each July.  You can visit several lavender farms year-round: Purple Haze Lavender and Jardin du Soleil, as well as lavender stores on the main street in downtown Sequim.
Sequim owes its farming success to irrigation.  Each year, during the first half of May, Sequim hosts The Irrigation Festival, which is the longest running festival in Washington.  The Grand Parade, arts and crafts festival, 5k run, and carnival are highlights.
Like Port Townsend, Sequim is blessed with an abundance of good food.  Be sure to visit Nash's Farm Store on Three Crabs Road. Nash Huber has been instrumental in founding and nurturing the farm-to-table and organic foods movement on the North Olympic Peninsula.  Years ago, Nash began organic farming.  Over the years, he's partnered with other farmers and property owners to lease fields throughout the Sequim area to grow organic vegetables that he sells at his Farm Store, as well as at farmers markets and fine restaurants throughout western Washington (look for him at the Ballard Farmers Market and the University District Neighborhood Farmers Market – in Seattle).  He also grinds his own grains for flour and has local, grass feed meet and pork.  You can also find roadside produce stands and several places that sell eggs.
There are several good places to eat in Sequim.  For tacos and a beer check out Jose's Famous Salsa downtown.  The prices are very reasonable and there is indoor and outdoor seating.  It is great for a quick bite.  We also like Pacific Pantry on Sequim Avenue.  Be sure to try their smoked meats and stock up on picnic essentials.  Our all-time favorite restaurant anywhere is Alder Wood Bistro on Alder Street.  Chef Gabe and his wife, Jessica, have been feeding and nurturing Sequim residents and visitors with their farm-to-table organic restaurant since 2006.  They use locally sourced, seasonal foods which means that every time you dine there you will see something new and unique on the menu.  Some of their producers have such limited supplies of goods that they only sell to Chef Gabe, which means you get to eat food that you would never be able to find in Seattle.  In fact, I'd put Chef Gabe up against any chef in Seattle.  He is an absolute artist.  As my best friend says "if I had one meal left to eat, I'd eat it at Alder Wood."  Be sure to check Alder Wood's website because they have limited hours and are closed in January.  Also, be sure to make reservations ahead of time as the restaurant often sells out.  If you visit in the summer, be sure to request a seat in the garden where you'll be surrounded by beautiful plants, herbs, grape vines, and fruit trees.  As Jessica says "if you can reach it, you can eat it."  Lucky for us, we have long arms and can usually reach a cherry or two!
For a trip back in time, check out the activities at the Sequim Prairie Grange.  Our favorite event there is the Ice Cream Socials in the summer and the Christmas Bazaar, but be sure to check out their flea market and pancake breakfasts too.
Before you leave Sequim, be sure to visit the Dungeness Spit and Voice of America park.  There is a nice trail along the bluff and quiet camping area.  The big-ticket item, though, is the beach.  After a half mile hike through the forest, you're rewarded with views of the Strait of Juan de Fuca, the San Juan Islands, Mount Baker, and Victoria, BC, Canada.  You can usually see a large ship or two heading to or from the Pacific Ocean.  On summer evenings, you can often see cruise ships on their way to Alaska.  When you first see the spit, you will spot a lighthouse at the end.  If you have the time (and the tides are right), you can hike there – and I recommend that you do.  Be sure to check the tide tables and take along water and sunscreen.  The hike is 5 miles long along the sand.  It is well worth the trip.  When you arrive, you can tour the lighthouse and museum and have a picnic.  If you like, you can even book a week-long stay at the lighthouse keeper's cottage.
Port Angeles and the Olympic National Park
Port Angeles is located 30 minutes west of Sequim and is home to the jewel of the Olympic Peninsula, the Olympic Peninsula National Park.
Port Angeles is a working-class town that traditionally relied on timber and fishing.  It is also the county seat.  You can easily find whatever services you need here.  This is also the best home base for exploring the Olympic National Park.
For groceries or a snack, be sure to stop by Country Aire Natural Foods downtown.  This is a large-scale health food store with a seafood counter, espresso bar and deli, and extensive produce section.  They also have several prepared foods that are perfect for a quick supper or picnic.  If you are in Port Angeles on a Saturday morning, stop by the Port Angeles Farmers Market downtown for a freshly made pastry from Pane D'Amore bakery or buy some seasonal vegetables from Johnston Farms.  You can also find flowers, smoked salmon, arts and crafts, and a variety of produce, depending on the season.
If you need hiking or back country gear, be sure to stop by Brown's Outdoor.  They'll have what you need.  If you need camping equipment or other types of gear, check out Swain's General Store on First Street, just east of downtown.  Swain's has everything, not just what you need, but also what you didn't know you needed.
One of the great luxuries of a National Park vacation is the chance to unwind, sit for a spell, and enjoy a good book.  Fortunately, Port Angeles has a truly exceptional independent bookstore.  Be sure to stop by Port Book and News on First Street, right next door to the fountain.  We love this place!  They have an extensive collection of magazines, as well as new and used books, local books, maps, and guides, and games, cards, and gifts.  Truly independent, local bookstores are a dying breed, please be sure to stop at Port Book and News and check it out.
The Olympic National Park headquarters are located on Race Street, just south of downtown.  At the Visitors' Center, can pick up maps, guide books, back country passes, and get more information about the Park.  If you travel 17 miles south of the Visitors' Center, you will arrive at Hurricane Ridge, which is at 1 mile elevation.  There are several scenic overlooks along the way that are worth the stop.  From them, and at the top, you can see the Sequim Valley, Port Angeles, the Strait of Juan de Fuca, the San Juan Islands, Mount Baker, Victoria, and beyond.  On a clear day, you may even see Seattle.  The Visitors' Center at the top of Hurricane Ridge has a short movie, maps, information, and guided ranger hikes, as well as bathrooms, a gift shop, and a small coffee shop.  There are numerous trails of varying lengths and degrees of difficulty that leave from the top of Hurricane Ridge.
Hurricane Ridge is especially magical in the winter.  The road is only open on select weekends and always depends on the weather conditions.  Be sure to check the Park's Twitter feed for current weather conditions and be sure to arrive early because the parking lot usually fills up in the first hour or two and access to the mountain is discontinued until a sufficient number of cars have departed.  You will also need to have tire chains in your car.  You will very likely need to put them on your car at the beginning of the winter season before the road has frozen and hardened.  At the top of the mountain, you can downhill ski, snowboard, cross country ski, tube, and snowshoe.  The Visitors' Center rents snowshoes and poles, as well as some ski equipment.  We especially enjoy snowshoeing it is beautiful and is a great workout if you go any distance and/or climb up some steep peaks.  If you've never snowshoed, sign up for a free ranger-led snowshoe hike.  The Park is stunning in the winter with evergreens loaded down with snow and bright, blue clear skies.  There are few places on the Ridge where you can stand in the snow and see the Strait of Juan de Fuca and downtown Victoria, BC in the distance.  It is just stunning.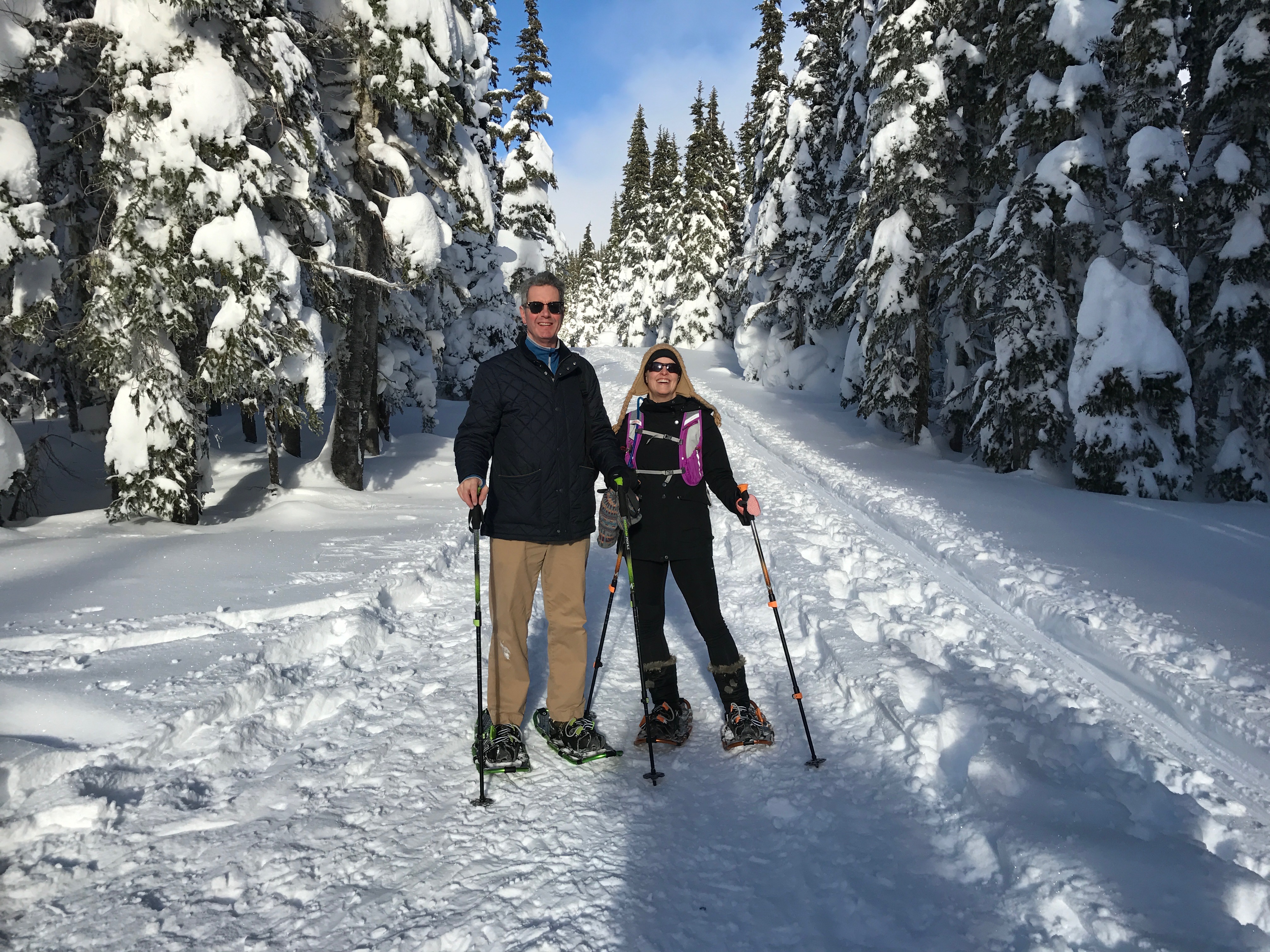 If you have the time, I recommend traveling west from Port Angeles out to La Push on the Pacific Ocean.  It will take you about 1.5 hours to get there.  Once there, you can walk along the beach or camp overnight.  If you don't have that much time, consider a visit to Lake Crescent, which is just 30-45 minutes west of Port Angeles.
Lake Crescent is a beautiful, deep alpine lake where heavily wooded foothills plunge into the crystal clear, cold waters of the lake.  US Highway 101 hugs the southern shore of the lake.  A short, primitive road goes along the east shore and a small section of the west and north shore, but there is no road around the lake.  A visit to the Lake Crescent Lodge is a must.  Check the website to make sure it is open, it generally closes in the winter, after New Year's.  You can stay or dine at the Lodge.  You can also swim, rent boats, and picnic.  In addition, the Marymere Falls trail starts at the Lodge.  This is an easy, but highly rewarding, hike to a stunning waterfall.  It will take you about 45 minutes to get to the waterfall.  There are several trails the split off this one.  If you have the time, I recommend driving along East Beach Road and parking at the Spruce Railroad Trail trailhead on the opposite side of the lake.  From here, you can walk or mountain bike to the Devil's Punchbowl bridge.  There is also a bike trail on this side of the lake that is partly paved.  Be sure to check the website for the latest updates on construction of this trail.
Victoria, BC and Beyond
From Port Angeles, you can take the Coho ferry to Victoria, BC.  You can take your car with your or park it in Port Angeles and just walk on the ferry.  The ferry will drop you off right downtown in Victoria, so the choice is yours.  But, be sure you have a valid passport!  Victoria is a charming Canadian city and the British Columbia provincial government.  The Fairmont Empress Hotel graces the harbor.  If you want to have high tea the Empress, be sure to make reservations.
There are several fun shops and good restaurants in downtown Victoria.  We recommend Roger's Chocolates for delicious, locally made chocolates; Murchie's Tea for tea and china; MEC for outdoor and sporting gear, and Roots for Canadian t-shirts and clothing.
Our favorite restaurant, other than those at The Empress, is OLO for local, organic food and craft cocktails.  There are also several eclectic small coffee shops, restaurants, and clothing stores on Yates Street.
You can board a bus in front of The Empress for a trip out to the Butchart Gardens.  It is well worth the trip and there is something blooming nearly every time of the year.  There is a large gift shop there and two nice restaurants.
To get some exercise or see more of the city, take a right turn when you exit the Coho ferry and follow the signs for the scenic drive.  This takes you along the shore where you will see the Strait of Juan de Fuca and Hurricane Ridge as well as the Gulf Islands.  This is a great place for a bike ride or a run.  You can follow this route at least 20 miles by bike.
Bicycling on the North Olympic Peninsula
My happiest moments are spent on my bike.  My happiest bike rides are on the North Olympic Peninsula.  I guess you could call this my happiest happy place.  There is truly something for everyone here in terms of biking.  I like long distance road cycling and can easily map out a 100-mile ride or a shorter training ride or hill repeats here.  Mountain bikers have plenty of places to ride and there are extensive paved bike trails for people wanting a more leisurely ride.
The Olympic Discovery Trail currently stretches from just east of the Clallam/Jefferson county line to the east to the turn off to Sol Duc Falls off Highway 101 just east of Forks to the west.  There are a few places that are inaccessible to road bikes or where you must travel on regular streets, so be sure to take a look at the website before venturing out.  The trail is in good condition, but be aware that there are some places where the hills are quite steep and some segments are fairly remote.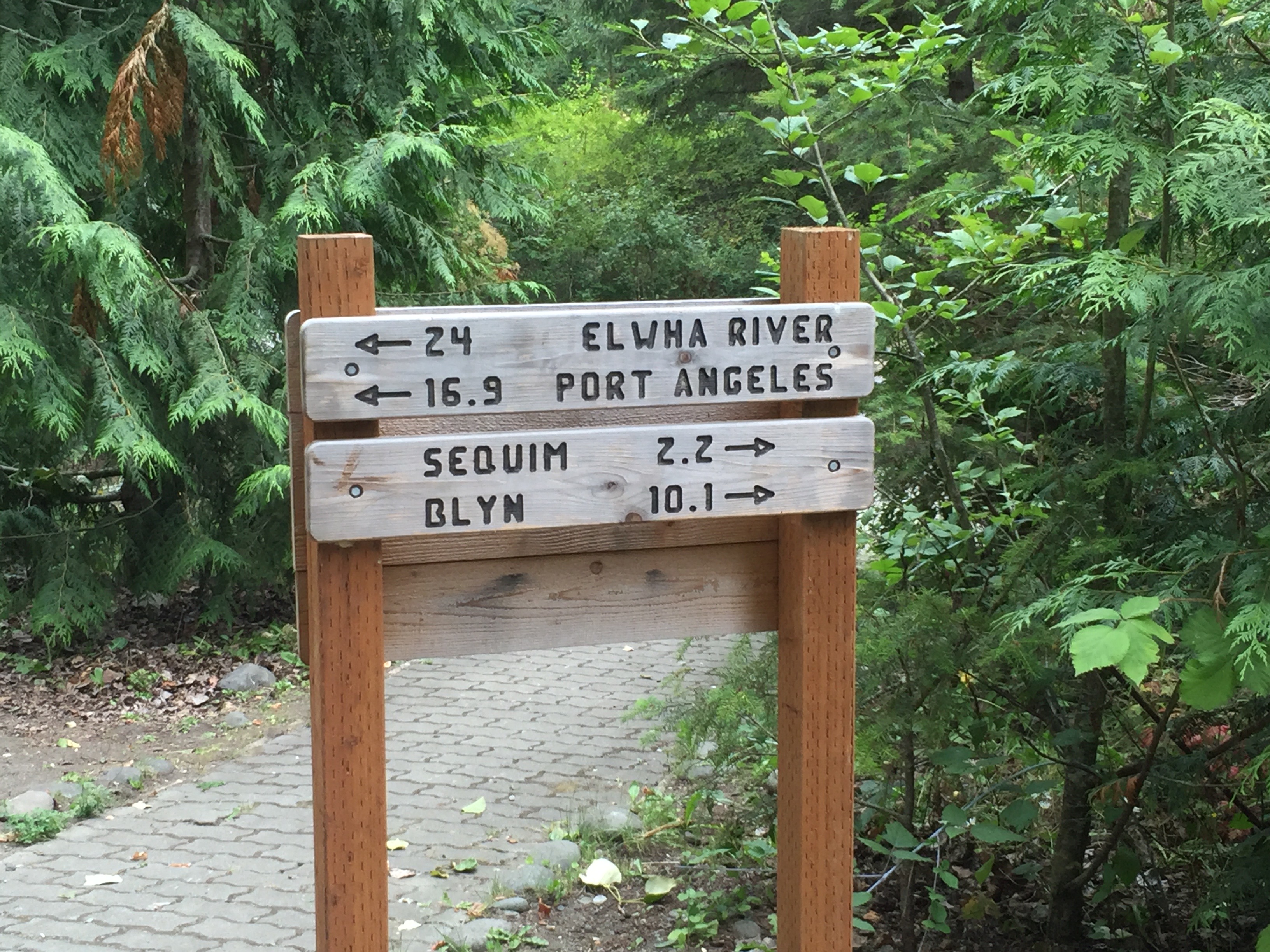 I especially like riding on the country roads in the Sequim Valley.  The road conditions are generally quite good, the traffic is sparse, and drivers are courteous.  You can find long stretches of flat road, as well as challenging hills, all the while enjoying gorgeous views.
The stretch of the trail from the Morse Creek Trailhead, just east of Port Angeles, to downtown Port Angeles, is especially nice.  It is low bank waterfront that can only be accessed or seen from the trail.  It isn't long, so consider this a good spot for a long walk.
The Elwha River is west of Port Angeles.  There is a double decker bridge spanning the river and reaching from edge to edge of the Elwha River Valley.  The top deck is for cars and the bottom deck is for bicycles.  It is pretty amazing.  From downtown Port Angeles, head west on the Olympic Discovery Trail.  It is less than 10 miles from downtown to the bridge.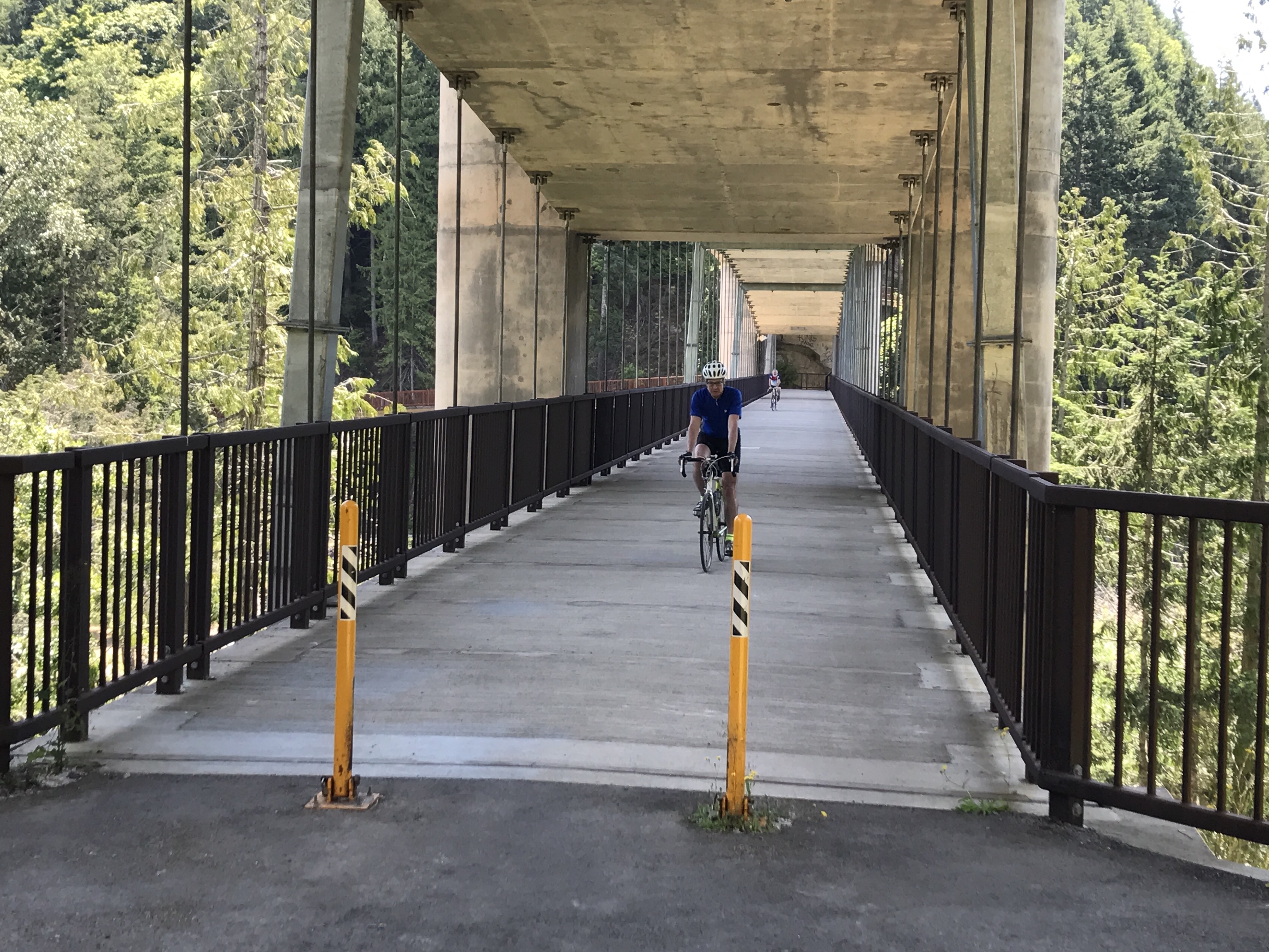 There are several organized bike rides on the North Olympic Peninsula.  The Recumbent Ride is in Sequim in June The first weekend of August is the Tour de Lavender in Sequim.  The next day is Ride the Hurricane in Port Angeles.  Hurricane Ridge Road is closed to traffic so that you can ride 5,200 feet up to the top of Hurricane Ridge!  Even if you don't do Ride the Hurricane, I highly recommend bicycling up to the top of Hurricane Ridge, but be careful if you ride down because it is steep and fast.
If you are a mountain biker, take a ride on the Adventure Trail, which is at the west end of the Olympic Discovery Trail, just west of Port Angeles. "The Olympic Adventure Route (OAR) is a 25 mile alternative to the paved, rail grade ODT route between the Elwha River and Lake Crescent… It is designed for mountain bikers, hikers, and equestrians. It has 25 miles of double and single track riding over very scenic, hilly, forested terrain. The trail is entirely off road except the last 4 miles on the west end, which is on old RR grade along the Lyre River and shared with logging access." – ODT website
Fortunately, each town on the North Olympic Peninsula has a good bike shop where you can buy gear and get your bike repaired.  Check with them for bike rentals and sales.
Running on the North Olympic Peninsula
The North Olympic Peninsula is also home to a number of high quality running events.  Many of them sell out early and lodging can sell out quickly, so plan accordingly.  Here are some of my favorite running events:
I hope you enjoy your time on the North Olympic Peninsula and that you'll return again to discover more of what this amazing place has to offer.