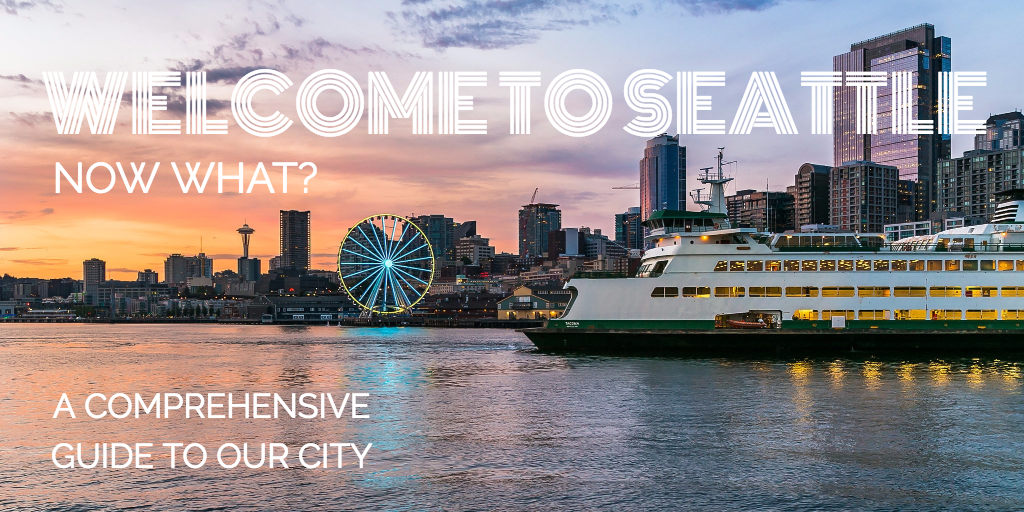 Welcome to Seattle!  We're glad you're here.  Whether you've been to Seattle a hundred times or this is your first visit, we hope these tours will give you a better feel for our fine city and introduce you to some hidden gems. Each of the below tours should take 4 hours or less and can be done on foot, or via public transportation or cab. You don't need to have a car, in fact, it is better if you don't! Traffic is congested and parking is expensive here. First, let's have a look at how to get around:
Getting around Seattle
If you're flying into SeaTac, consider taking the Light Rail into town. At the baggage claim, look for signs that read "Link Light Rail."  The platform for the Light Rail is at the far north end of the airport (through the parking complex). Once you've purchased your ticket (the average price is $2.75, depending on distance traveled) take the escalator up to the platform and hop onto the next train (they all run the same route). Have your ticket ready in case a security officer requests it (but there aren't any places where you have to swipe it to access the train). The Light Rail goes back and forth all day from the airport to downtown and beyond, up to Capitol Hill and the University of Washington. Throughout its 15 stops, there are only three in the downtown area – Westlake Center, University Street Station and Pioneer Square. These are all quite close in proximity so if you miss one, don't fret, you can use the next stop. The train will drop you off in the Downtown Seattle Transit Tunnel and from there, take the escalator or elevator up and out onto the street.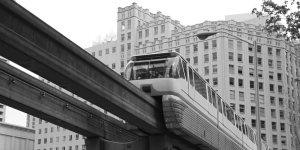 This is a Seattle relic built for the 1962 World's Fair. It has only two stops – Downtown's Westlake Center and Seattle Center, home of our beloved Space Needle. To catch the monorail from downtown, take the escalators to the top floor of Westlake Center (5th & Pine). Follow the signs to purchase your ticket. They depart every few minutes from either direction. This is a quick, easy way to get to the Seattle Center and a fun way to see the city.
A few years back, city leaders decided Seattle needed a trolley and in 2007 the South Lake Union Trolley was born, however, no one checked the acronym before they launched it. Once that mistake was realized, they promptly renamed it to the "South Lake Union Streetcar" (but it will always be known to Seattleites as the SLUT). This line runs fro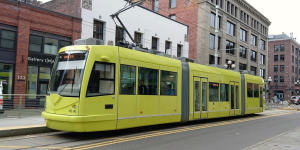 m Westlake (5th and Stewart) along the southeastern end of Lake Union. In January 2016, the First Hill Streetcar line opened, stretching from downtown's Pioneer Square (S Jackson and Nord Alley) to Capitol Hill (Broadway and Denny), stopping 10 times throughout the 2.5 mile route. These are affordable and easy ways to get around town, however, none of our public transportation connects – so be ready to walk between the different modes. Buy your ticket at the kiosk outside. The streetcars run alongside traffic, stopping at the lights, so make sure to allow enough time to get from point A to B! Check the route map to see if the streetcar is right for your day.

Taxi
This is by far our least favorite way to get around town, but it still works. Although Seattle has Lyft and Uber, we don't recommend them due to insurance coverage and safety issues. (I'm a lawyer, so I can't help but analyze every possible bad outcome.)
Foot
This is the easiest and best way to see Seattle. Despite the hills, our city is very walkable, and very safe. Each of these outings can be done solely by foot (with the exception of the ferry tours).
For Information on our Ferries – see "Ride a Boat" below.
Now that you know how to get there, where do you want to go?
History & Homers: Pioneer Square, International District & Stadiums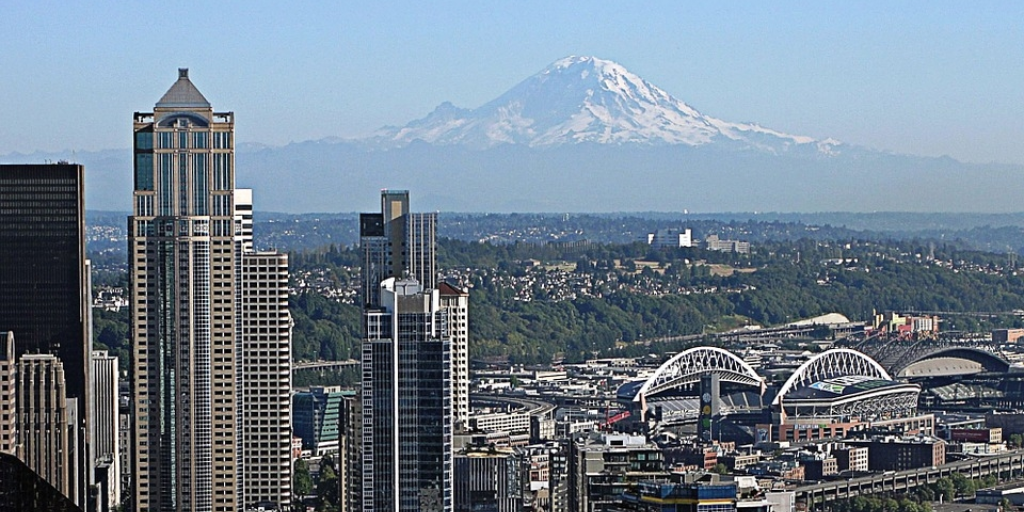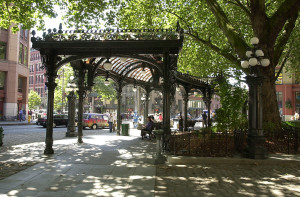 Pioneer Square  is "the old part of town." It's south of downtown and starts around 1st and James. Just walk down the hill to 1st Avenue and turn left towards Mt. Rainier. The Pergola at 1st and Yesler marks the official start of Pioneer Square. Everyone loves the Underground Seattle Tour. It gives you a first-hand look at how Seattle rebuilt 22 feet above the ruins caused by the fire of 1889.  Don't miss the Waterfall Garden Park (219 2nd Avenue South) which is located on the site of the first UPS headquarters. The park is tucked behind big gates– an oasis in the middle of Pioneer Square. And just down the street is the Klondike Gold Rush Museum (319 2nd Avenue South).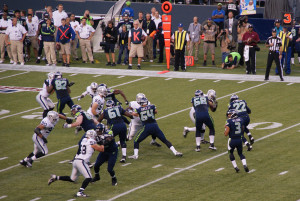 Pioneer Square is also home to our sporting arenas. The Seattle Sounders and the XLVIII Super Bowl Champions, our very own Seattle Seahawks play at Century Link Field just south of 2nd & King. Further south is Safeco Field, home of the Seattle Mariners.  Check out a game while you're in town!
Are you hungry yet? If so, you're in luck! Pioneer Square has some great restaurants. Check out Salumi, owned by the father of celebrity chef Mario Batalli (309 Third Avenue South). It is only open on Tuesdays through Fridays from 11:00 a.m. to 3:30 p.m. and the line forms early, but it is worth the wait. If you can't get there, don't fret, many restaurants around town serve "Salumi salami."
We love The London Plane (300 Occidental Avenue South) which is described as "part cafe, part specialty foods grocery, part floral workshop."  For a fancier meal, check out Il Terrazzo Carmine, a taste of Italy tucked away in the same building as Blue Nile, next door to Bebas Delicatessen.
For coffee, I like Cafe Umbria (320 Occidental Avenue South) and Zeitgiest Coffee (171 S. Jackson Street).
In the mood for something more exotic?  Head east across Second Avenue to the International District (locally referred to as "the I.D."). Uwajimaya is the largest Asian grocery store in the northwest and is, in a word, amazing. There is also a huge food court here serving a wide variety of Asian foods. For sushi, go to Maneki (304 6th Avenue South). This restaurant has been open since 1904 and is a huge local favorite, so make your reservations early! For Vietnamese food, treat yourself to dinner at the Tamarind Tree (1036 South Jackson Street Suite A).  Again, reservations are a must (and be sure to read the "rules" about reservations on the website– they are strict because this place is so popular). It is located in an ugly strip mall on the edge of the I.D., but inside is beautiful, warm and inviting, and the food is spectacular and affordable. We recommend just telling the server about any food exclusions/allergies you have and let them order for you and eat everything family style. You can't go wrong.
While you're in the I.D., also be sure to check out the Wing Luke Museum, which is affiliated with the Smithsonian (719 S. King Street).

An Insider's Guide to The Pike Place Market
No trip to Seattle is complete without a trip to The Pike Place Market, but please, get the name right. The market is located on a street named "Pike Place," hence the name. People who haven't lived here very long refer to it as "Pike Street Market" or the "Pike Market Place."  Don't sound like a newbie, it's "The Pike Place Market."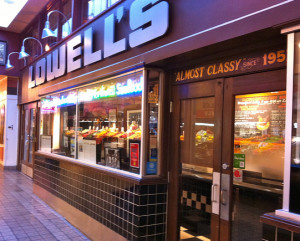 I recommend you go there early in the morning for breakfast, before it gets unbearably crowded. The bonus is that you will see the vendors setting up their stalls. The best place for a sit down meal is Lowell's. Located in the main building at the market, just past where they throw salmon (trust me, it isn't hard to find), you're presented with two service options: either stand in line to place your order and then grab a seat on the 1st or 3rd floor, or head straight up to the 2nd floor for table service. On the 2nd floor, you have the choice of water views or views of the inside of the market; you can't go wrong.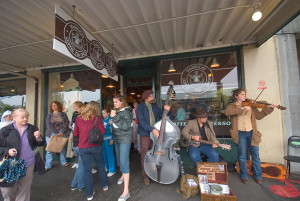 Of course, when you are in Seattle, you must stop at the original Starbucks. It's located across the street from the main market building toward the north end of the market. You can't miss it, just look for the line. It really isn't much different than other Starbucks in Seattle aside from the brown logo, not having tables, and constant musicians playing to the coffee-crazed visitors but, when in Rome… For another unique Starbucks experience, try the one on the 40th floor of the Columbia Tower (Washington's tallest building), or, head up to Capitol Hill for a visit to The Roastery (see below for more information on that).
Browsing the vendor stalls is a wonderful way to pass the time. Be sure to see the local photography booths for nice souvenirs and don't miss the lower levels where strange and mysterious items are on display and for sale. The Made in Washington Store is a great place to get a classy souvenir and Sur La Table is the best place to buy the high end cooking gadgets you had no idea you needed!
If you're a turophile, stopping at Beecher's Cheese is a must! Peer through the glass walls as they make their famous cheese or try some samples– indulge in a grilled cheese sandwich, mac & cheese, or just purchase a snack for later. If you miss Beecher's at the market, you can stop by their kiosk in Terminal C at SeaTac – how convenient!
If you like ginger ale, stop by Rachel's Ginger Beer for a sweet and spicy beverage (they have cocktails and milkshakes, too!).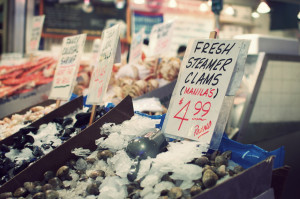 My favorite thing at the market is the seafood. Of course, you have to watch them throw the fish, but also see if you can find someone selling geoducks (pronounced "gooey duck"). It is difficult to describe their appearance without being indelicate, so just ask around and see if you can find one. In my opinion, anyone traveling to Seattle should make it their personal mission to eat as much Dungeness crab as humanly possible, because it is that good! I don't care where you are from, our crab is better. The very best crab cocktail can be found at Jack's Fish Spot across the street from the main market building, right next to the Three Girls Bakery (another excellent place to graze). Order a crab cocktail at Jack's and maybe some oysters, cioppino, and even some fish & chips, if you're still hungry. The food is amazing and super cheap. If you really like it, they can pack up some crab for you to take home– or ship to you.
If the weather is nice and you are in the mood for al fresco dining, head to The Pink Door. Go north down Post Alley and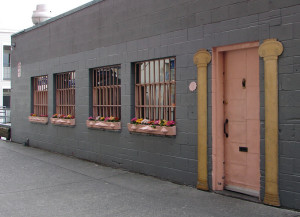 look for the pink door (there is no sign to the restaurant). Just walk in the door like you own the place and pray for a spot on the deck. If you're interested in an intimate evening dining experience, check their website for events such as aerial performances and book a reservation for their inside dining room.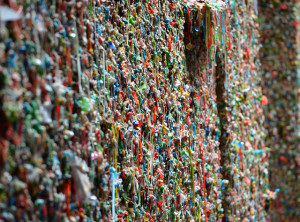 If you're anything like us, by now you've done a lot of eating, so you should probably start walking it off. Head down the ramp right below the fish throwers (apparently, all roads in the market lead to "where they throw the fish") and look for The Gum Wall. That took away your appetite, didn't it?!  Don't get too close. That stuff is real! They recently cleaned one of the "Top 5 germiest tourist attractions in the world," in an attempt to squelch the sugar degradation of the bricks, but it did NOT last long! The gum chewing masses (locals and tourists alike) made sure of it.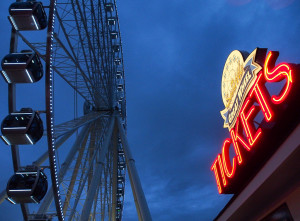 After you've gotten your fill of our crazy-weird gum wall, head down to the waterfront's Pier 57 and treat yourself to a ride on The Great Wheel. It has only been here a few years, but the city has embraced it and it's definitely worth doing. Check the website for operating hours before heading down. The rest of the waterfront has some fun shops and restaurants but it's pretty torn up due to construction, so I don't recommend it at the moment. Just head down for a ride on the wheel (or to take a trip on the ferries or water taxi) and then head back up the hill to downtown.

On your way back to downtown, just across the street from the Great Wheel is the Copperworks Tasting Room & Distillery. Check out the copper stills, take a tour, and taste their locally made gin and vodka.
On your way back to your hotel, go up the steps toward the Four Seasons Hotel (this leads you to 1st & Union, or go up the Harbor Steps stairs at University Street) and turn the corner to Fran's Chocolates (1325 1st Avenue). You will thank me for this. Be sure to try a sea salt caramel dipped in chocolate. You can buy a box to take home. If you have really strong willpower, you may actually still have some when you get home, although I doubt it!
Techies & Tacos (South Lake Union)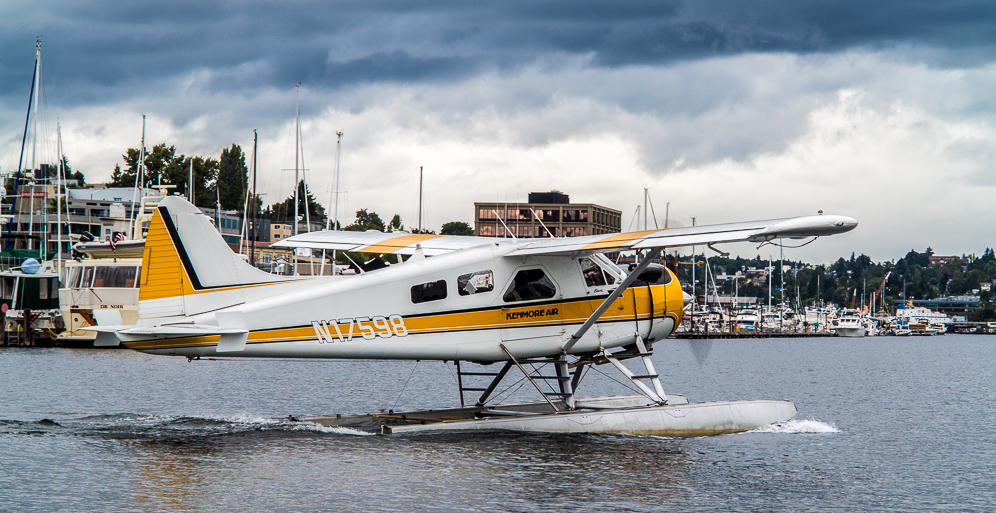 A few years back, there was nothing but a few warehouses and random buildings between the Westin Hotel (the two round towers on 5th Avenue) and Lake Union. Then, Microsoft's Paul Allen started a construction company called Vulcan, and Amazon's Jeff Bezos decided to locate his company there and – BOOM – an urban neighborhood sprouted up. Actually, it is a constant work in progress as you can see from the "(construction) crane forest."
The easiest way to get a handle on this neighborhood and what it has to offer is to ride the Seattle Streetcar all the way to the end and then get off at a stop on the way back and explore. Board the SLUT just north of Westlake Center right across from the Westin. It will zoom you down Westlake Avenue past Whole Foods (aka "the cafeteria") and into the heart of The Amazon.  If you see 20 somethings wearing hoodies, backpacks, earbuds, and light blue ID cards (aka "the nerd herd" or "Amazonians") you will know you are close.
The Seattle Streetcar goes through the middle of the Amazon campus (look for the big open book logo on one of the buildings) where they have a host of eateries including a trio of Tom Douglas restaurants: BraveHorse Tavern (think college frat house), Cuoco (Italian) on Terry Avenue, and Serious Pie & Biscuit (artsy fartsy pizza) on Westlake. Other wonderful food options include Portage Bay Cafe at Terry & Harrison (a great spot for brunch), Re:public Restaurant and Bar at Westlake & Republican (great foodie find for locally sourced food and craft cocktails), and, our favorite, Cactus on Terry for yummy southwestern food and outdoor dining (warning: Seattle food is not spicy at all– must be something about the number of us Pacific Northwest Scandinavians here, but the food is really tasty. If you want spicy food, you'll have to find a Thai restaurant).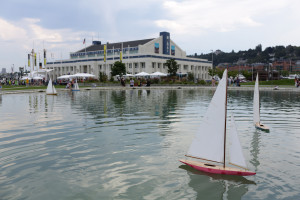 If you stay on the SLUT, it will take you down to Lake Union. There is a great park here, as well as The Center for Wooden Boats , where you can rent, view, or buy a boat.  This end of the lake is also home to the Museum of History and Industry ("MOHAI"). MOHAI is well worth a visit (every first Thursday of the month is free entry). There are fabulous permanent exhibits about Seattle's history and a great movie about the city. Plus, the building and its setting are lovely. It sits on the lakefront and the surrounding park is often host to various community events, so have a look at the schedule to see if any exciting festivals are going on while you're in town, or just come to the park to relax, swim, or

watch Kenmore Air's seaplanes take off and land. Another fun option is to hop aboard an Argosy Cruise Tour for a trip around the lake through the Montlake Cut and into Lake Washington to check out the floating homes, University of Washington stadium, and listen to fun and historical facts about the region. During the summer, check out the Ice Cream Cruise on the m/v Fremont Avenue.

If you are looking for a nice run or a (very) long walk, follow the sidewalk from MOHAI, around Lake Union (7 miles for the full loop) which will take you through Fremont and Eastlake or to the Seattle Center.  Or, if you are the outdoorsy type, head east on Denny Way, take a left on Fairview and a right on John Street to the flagship REI store where you can ride a mountain bike over trails, climb a rock wall, stretch out in a tent, or try out new hiking boots.
Seattle Center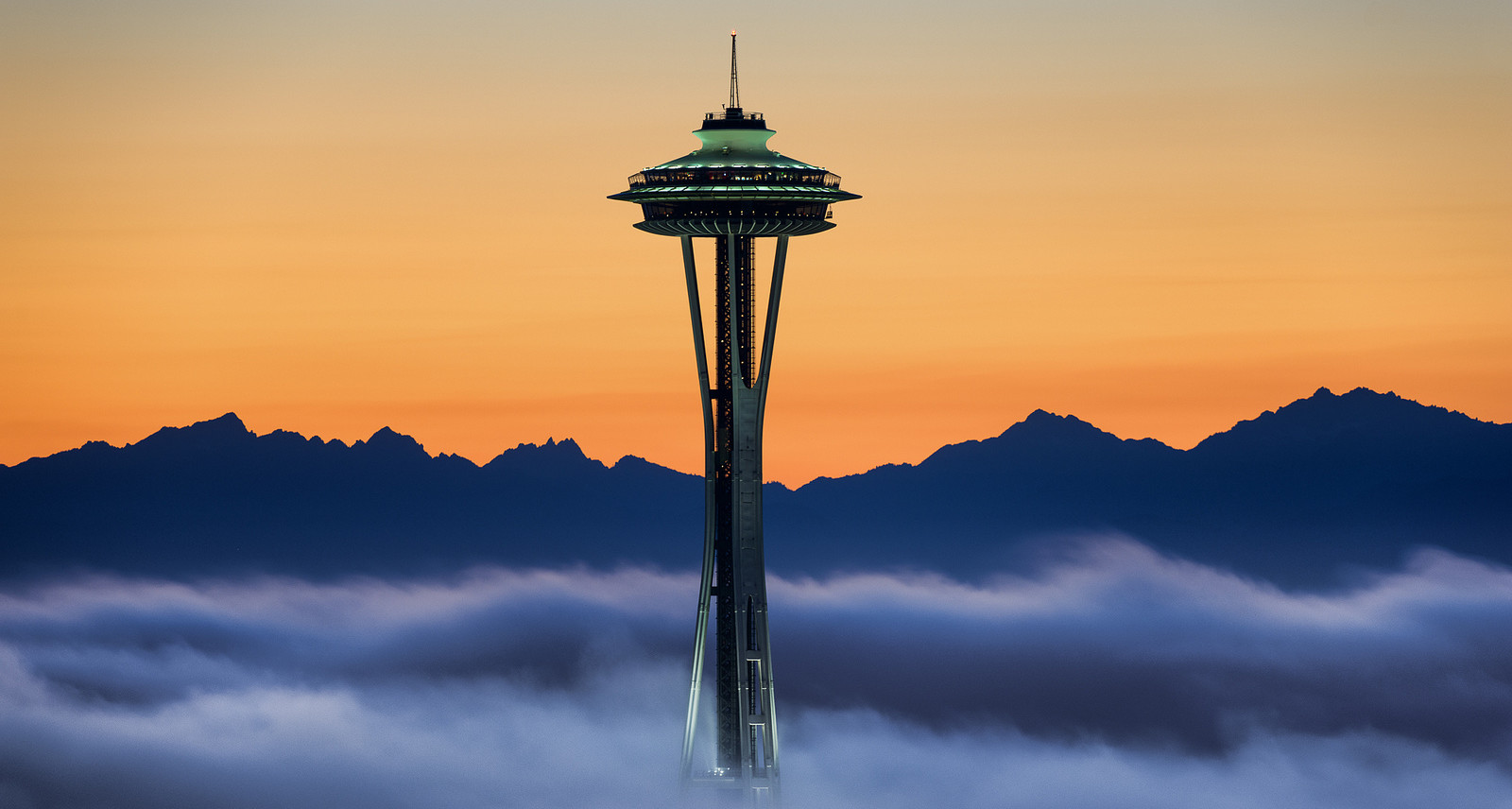 Let's talk about the Seattle Center. It is home to the Space Needle and several notable museums. This is probably the best place to enjoy on rainy day or if you don't want to do much walking.
The easiest way to get to the Seattle Center is via the Monorail, which you can pick up from the top floor of Westlake Center on 5th & Pine. You could also walk straight down 5th Avenue under the monorail's tracks for just over a mile (if you do walk, you have earned the right to stop at Top Pot Doughnuts–– President Obama's favorite place in the city).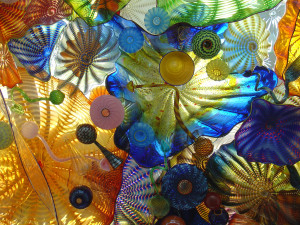 Chihuly Garden and Glass Museum is located at Seattle Center and is one of the tops spots to explore.  This place is really special. Be sure to take your cell phone with you to do the audio tour (which you can even listen to on your desktop whenever you like), and your camera. The work here is really stunning.  Stop at the museum's Collections Cafe for a bite to eat afterwards. The food is quite good and each table at the restaurant features a different item that Dale Chihuly has collected (we're talking fishing lures, alarm clocks, juice squeezers, etc.).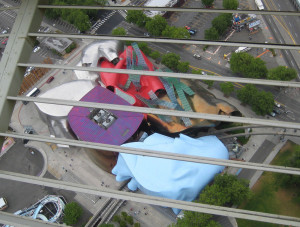 If you like music, you will enjoy the Museum of Pop Culture (aka "MoPop"). The building was designed by Frank O. Gehry to resemble a collection of guitar pieces. Inside, you can watch videos, try out instruments, and see lots of unique Jimi Hendrix memorabilia. 
Paul Allen owns MoPop. He buys Seattle cool things like EMP, the Science Fiction Museum, the Cinerama movie theater, the Sounders, and the Seahawks because he wants us to be happy. He's not trying to change the world with these purchases, but if that is your thing, then cross the street to the Bill and Melinda Gates Foundation where they are trying to change the world. The visitor's center is free and is open Tuesdays through Saturdays from 10 a.m. to 6 p.m.
If you want a quick bite to eat, stop by the Seattle Center Armory which is a food court full of local foods. You can find vegan dining, seafood, wood fired pizza, and even bacon jam (at Skillet).  Another good dining option is Taylor Shellfish Oyster Bar, just across from the northwest corner of the Seattle Center (behind Key Arena). Taylor Shellfish is perhaps the finest purveyor of local shellfish, which is saying a lot. The food here is great.  We also like the Mexican restaurant, Agave Cocina and Tequilas!

Seattle Center plays hosts to a ton of wonderful events and festivals such as Bumbershoot Music Festival, International Beerfest, Bite of Seattle, various cultural festivals and lots more! There are also free outdoor movies and fitness classes. Follow their Facebook Page for details and updates regarding all they have to offer.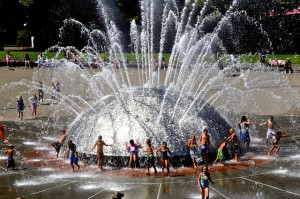 While you're there, be sure to check out and play in the iconic International Fountain on the lawn outside Key Arena (another great concert and event venue). Throughout the day it dances to 5 different songs! There's also a skate park and an amazing children's playground, opened just last year called Artists at Play.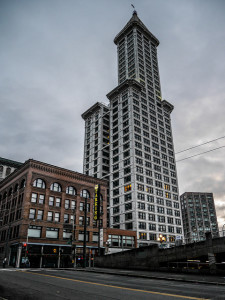 You may notice that I have not yet mentioned the Space Needle. There is a reason for that. I love the Space Needle as much as anyone, probably more, but it costs an adult $22 to ride to the top, which I think is a bit pricey. If you must go to the top of the Space Needle, then by all means, go ahead.  But, if you want a really great view with a smaller price tag, then go to the Sky View Observatory on the 73rd floor of the Columbia Tower for the best view in town. It is located at the corner of Columbia & 4th and 5th Avenues (NOT on the Seattle Center Campus). Tickets are only $14.75 for adults and the view is even better and higher up. On your way up there, stop at the highest Starbucks in the world on the 40th floor "Sky Lobby." As another viewpoint option, you can pop up to the top of the historic Smith Tower, which has watched over the city for over 100 years. At just 35 stories, it was once the tallest building west of the Mississippi. 

Chillin' on the Hill (Capitol Hill)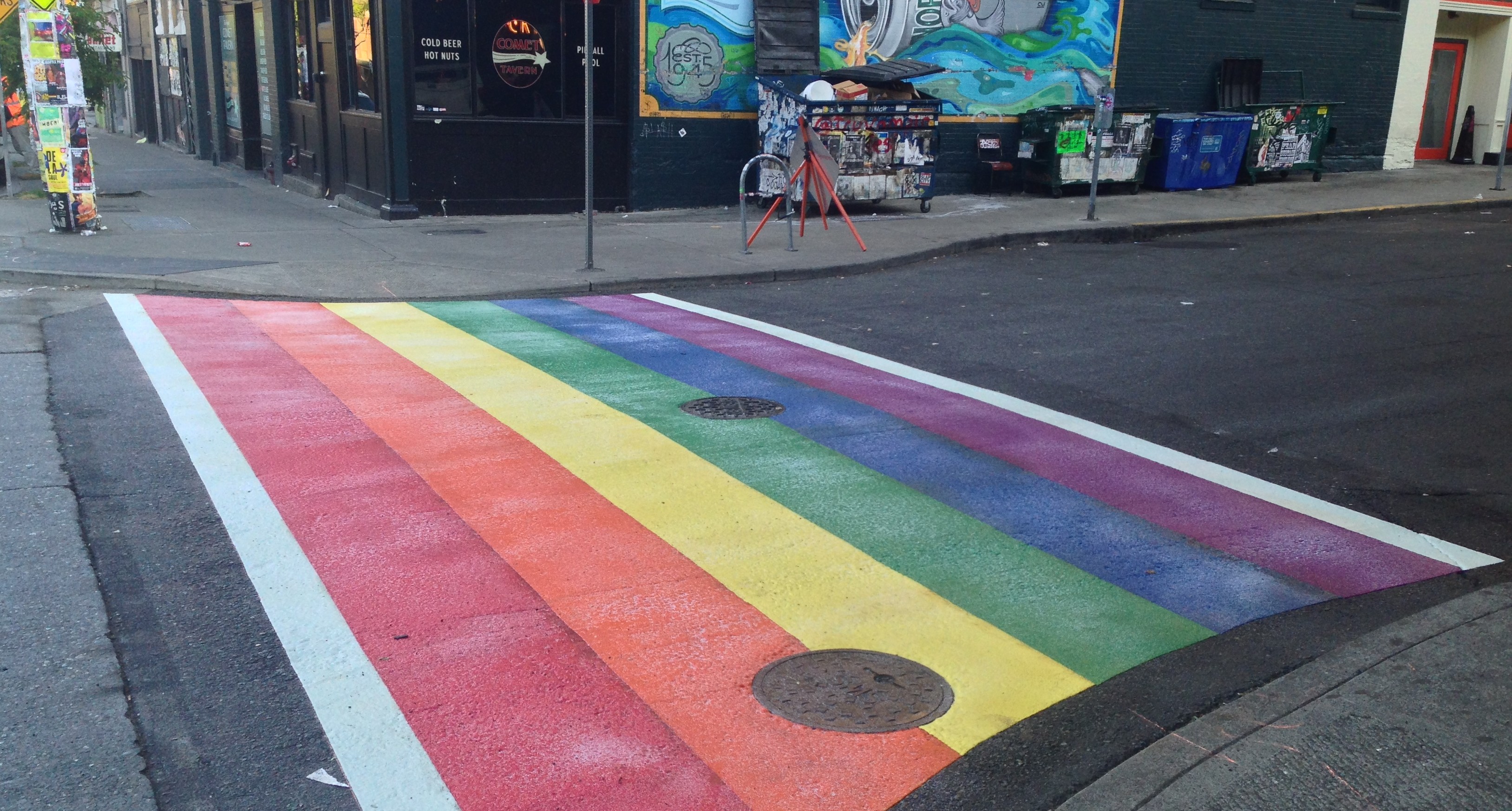 Capitol Hill is where the cool kids hang out. The best way to get there is to head north on 6th Avenue and turn right (east) onto Pike or Pine and walk up the hill. Capitol Hill is full of so many cool and interesting things that it would be impossible to list them all. The best way to explore is just by walking around and seeing what interests you. Do not, I beg you, take a car up here. There is no place to park and the traffic is horrendous. This past January, the First Hill Streetcar line opened, stretching from downtown's Pioneer Square (S Jackson and Nord Alley) to Capitol Hill (Broadway and Denny), stopping 10 times throughout the 2.5 mile route. Of course, it does not connect with the SLUT, but if you've read all the way through, you knew that already!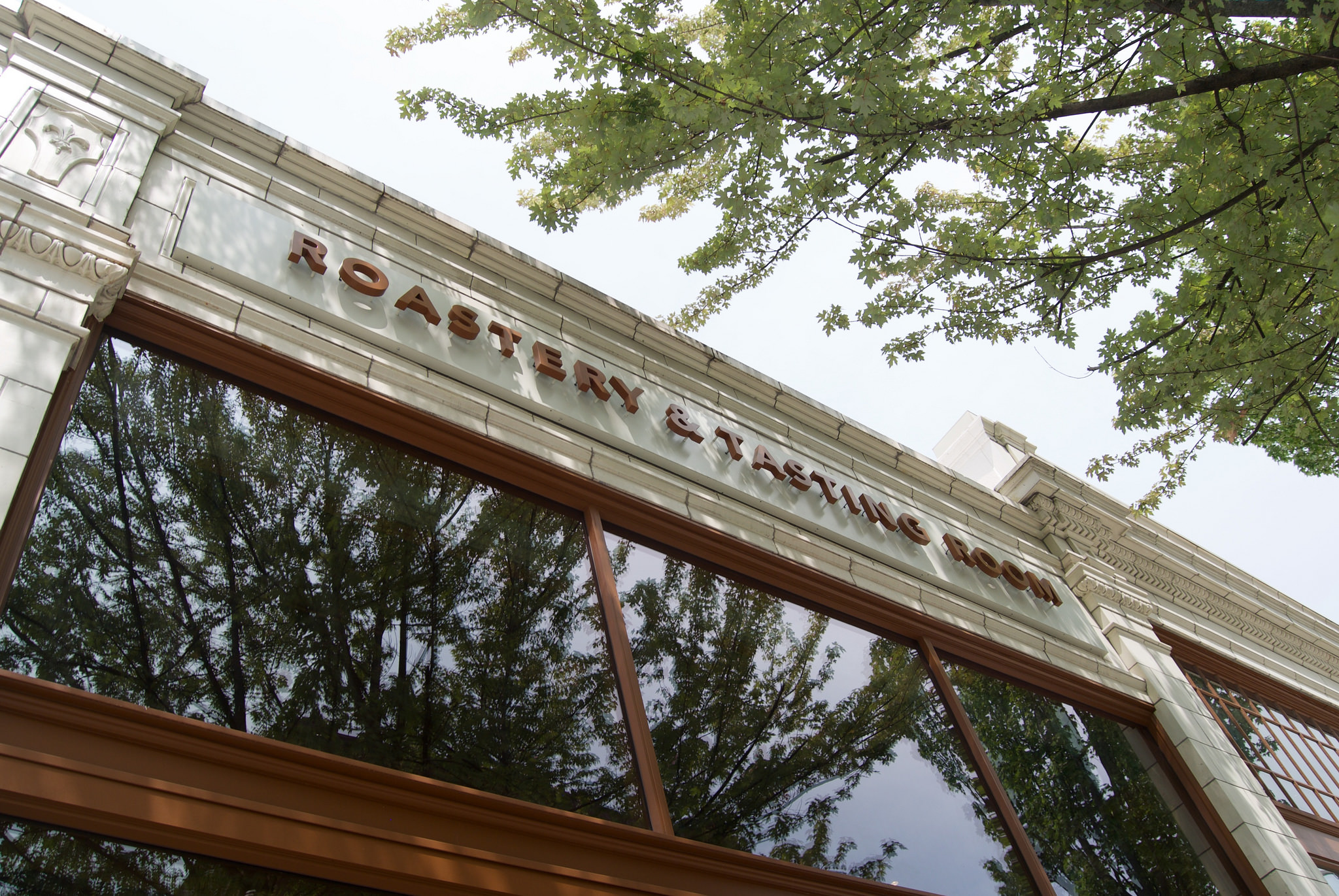 Broadway, 12th Avenue, and 15th Avenue are the main north/south thoroughfares on the Hill and there are little discreet pocket neighborhoods scattered about. Before you get too far along, you will need some coffee. Victrola Coffee (310 S. Pike Street) and Caffe Vita (1005 E. Pike Street) are worthy local choices. If Starbucks tickles your fancy, stop by the Starbucks Roastery on the corner of Pike and Minor. It's an amazing facility bustling with activity that will even WOW non coffee-lovers. Partnered with Tom Douglas's Serious Pie, you can stop by to watch where Starbucks Coffee worldwide is roasted; enjoy a wood fired pizza; pick up a one-of-a-kind souvenir sold exclusively at that location; or treat yourself to fresh baked goods supplied by Dahlia Bakery, another local Tom Douglas favorite.
Let's start with some shopping. Elliott Bay Books (1521 10th Avenue) is a book lover's paradise, local and unique. You could spend an entire day here.  Across the street is a great record store, Everyday Music, with actual records! Around the corner on Pine Street is Molly Moon's Homemade Ice Cream where you can choose from flavors like balsamic strawberry, salted caramel, and Stumptown coffee. Life is short, try them all!  A couple doors down from Elliott Bay Books on 10th is OddFellows Cafe. This place is open early and stays open late, but is nearly always full. The craft cocktails are great and the food is fabulous.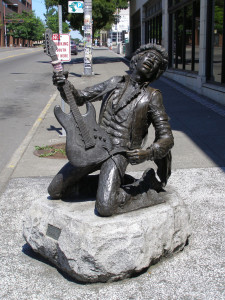 If you head north from Elliott Bay Books, turn north onto Broadway and see the Jimi Hendrix statue across the street from Seattle Central Community College.
If you haven't had your fill of books, head north on the hill to Ada's Technical Books (425 E. 15th Avenue) just past Harrison, and explore books on math, engineering, science, architecture, computers, etc. They have a cafe, too.
Further south on the Hill are several notable restaurants and bars. Check out Tavern Law (1406 12th Avenue), Canon: Whiskey and Bitters Emporium, (928 12th Avenue) which was named as one of the "Best Bars in America" by Esquire and winner of "Best American Cocktail Bar" and "World's Best Cocktail Menu," and Cafe Presse (1117 12th Avenue) for Caffe Vita coffee, a croquet monsieur, and to pick up your favorite international newspaper or magazine while you watch a soccer game at the bar.

Ride a Boat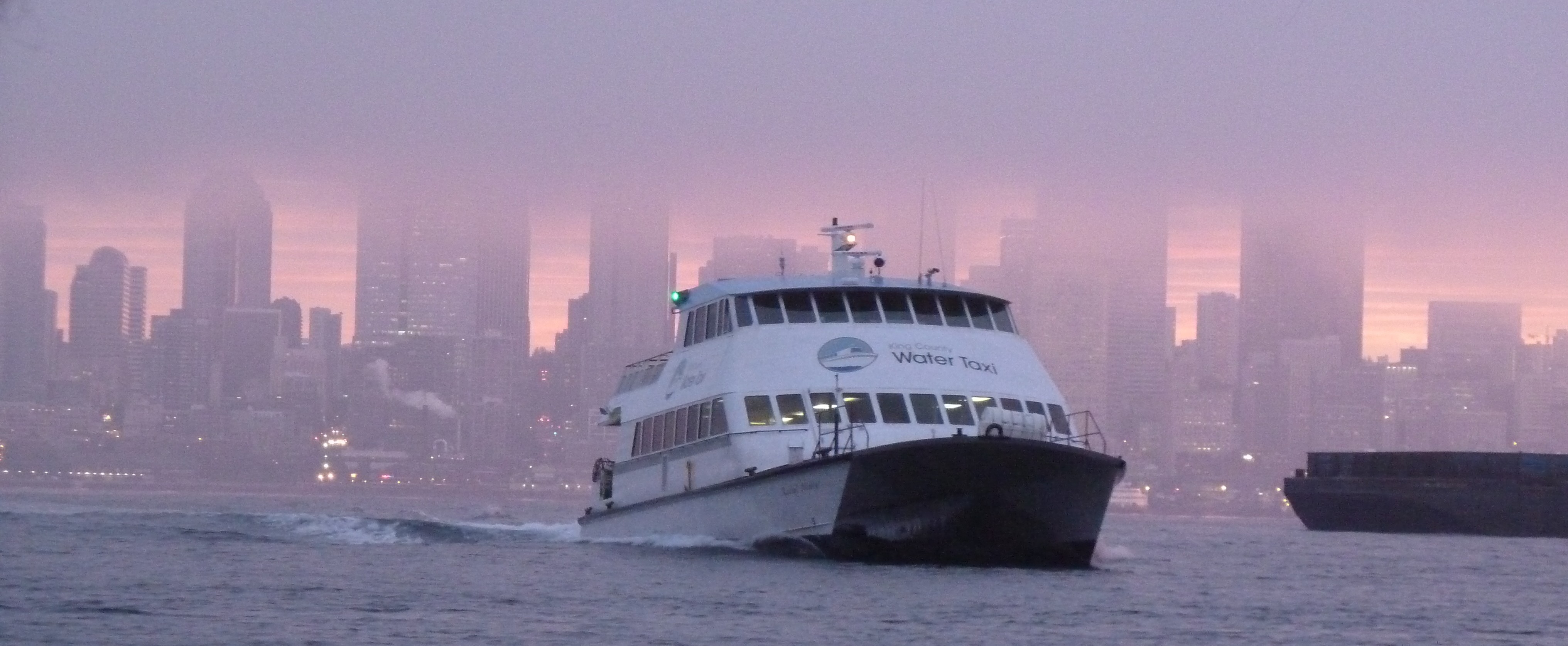 If you're looking for a quick trip and a great view, catch the West Seattle Water Taxi.  It's only a short ride (about 20 minutes) and when you get off, you have two choices: walk along the waterfront (about 2 miles to the part of West Seattle known as Alki – great on a relaxed sunny day) or take the small shuttle bus that stops at various spots in West Seattle (finally, public transportation that connects to something!). Right next to the water taxi dock is a fun casual restaurant, Marination Ma Kai. They have inside dining, as well as a big patio, and specialize in Hawaiian-Korean fusion cuisine. Also near the dock is Salty's which has the best view of Seattle and a wide selection of seafood. Dine on the patio or in the dining room.  If you're feeling like more activity, rent a kayak or a paddle board and enjoy the water. Be sure to listen for a loud yelping sound down near the water– those are sea lions you hear!
Alki is a fun place and worth the walk.  It is a neighborhood right on the water with a huge beach and plenty of shops and restaurants. It is a bit like Southern California, aside from the temperature, expansive mountain views, and ferry boats. If you opt for the shuttle bus, it will drop you at the end of Alki and you can walk or ride back to the water taxi after exploring. There is a Cactus Restaurant here (see South Lake Union Section) with outdoor seating. Another great Tex Mex option with indoor/outdoor seating is El Chupacabra (which also has a location in South Lake Union, by the Center for Wooden Boats).

If you've got the time, I highly recommend riding the Bainbridge Island Ferry. Everyone should do it. Just head down to the terminal at Pier 52, buy a ticket, and walk on the ferry. The ride over is stunning. When you get there, get off the ferry and walk up the street to the little town of Winslow. The new Bainbridge Island Museum of Art is free (free is good, right?!) and open from 10 a.m. to 6 p.m.
There are plenty of places to eat on Bainbridge. Head west on Winslow Way to Streamliner Diner which will be on your left. They serve breakfast and lunch and it is well worth the wait. Further east on Winslow Way and just up an alley called Madrone Lane is Mora Iced Creamery. The ice cream here is really delicious, but you can't see it! Instead of being displayed in glass-topped cases, the ice cream is stored "in its own state-of-the-art temperature-controlled compartment." Hitchcock Restaurant and Deli (129 Winslow Way) has a wood fired oven, handmade pasta, charcuterie, and a ton of awards for their food.
Winslow also has good shopping. My favorite stops are the bookstore and the travel store. There is also a yarn shop, several gift shops, and home furnishing stores.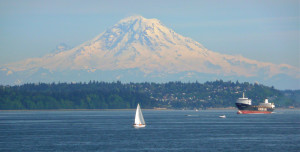 When you are done on Bainbridge Island, go back to the ferry terminal and hop the next boat. The ride back to Seattle is free. As you ride back to Seattle, be sure to get some pictures. That is Mt. Rainier on your right, Mount Baker on your left, the Cascade Mountains in front of you, and the Olympic Mountains behind you. Glorious, isn't it?!
For a bit longer ferry trip, ride the ferry from Seattle to Bremerton.  The ride is 1 hour long and beautiful.  When you get to Bremerton, enjoy the boardwalk on the waterfront, the park next to the ferry, the Naval museum, or feast on some excellent seafood at Anthony's.  
Whichever tours you take on your visit to Seattle, you are sure to have a great time. We hope you enjoy your visit and come back again!
Well, there you have it! Plenty of options for you to experience the best of Seattle. We hope you enjoyed your visit. See you next time!