Things to do on the Olympic Peninsula
Part 2: Sequim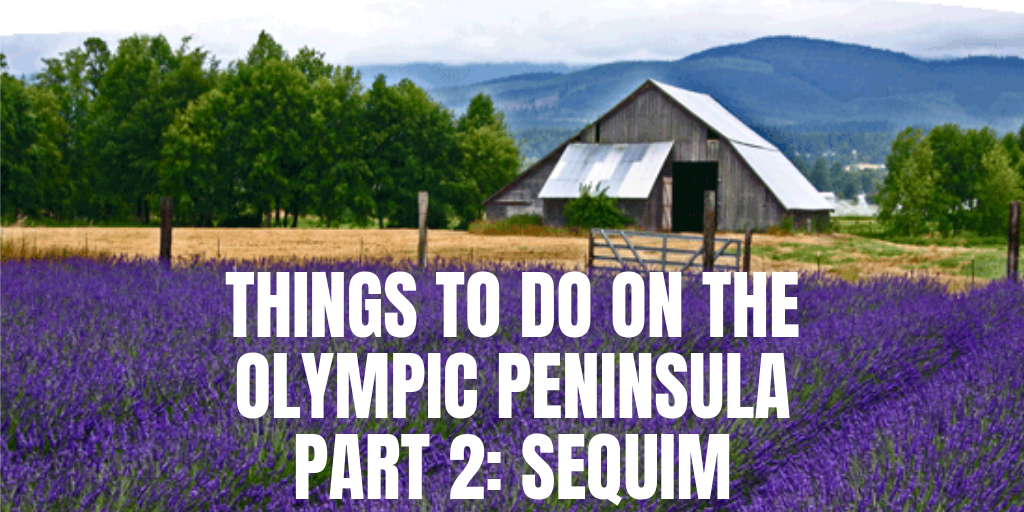 Getting to the Olympic Peninsula from Seattle
Most visitors to the Olympic Peninsula arrive from Seattle.  To get there, take a ferry from Seattle to Bainbridge Island or Bremerton or from Edmonds to Kingston.  Once you get off the ferry, follow signs to the Hood Canal Bridge.  The distance to the Bridge from the Bainbridge Island and Bremerton ferry terminals is the same distance, although the ferry ride from Seattle to Bremerton is 30 minutes longer than to Bainbridge Island.  Travel time to the Bridge from the Kingston ferry terminal is shorter, but the drive from Seattle to Edmonds can be long, depending on traffic, and the ferry lines in Edmonds are usually longer.
Once you get to the Bridge, you are approximately 30 minutes from Port Townsend, 45 minutes from Sequim, and a little over an hour from Port Angeles.
Sequim is pronounced "skwim."  Take a look at this video to see how to pronounce and to learn more about my favorite town.
If you are traveling to Sequim after visiting Port Townsend, be sure to get there via Highway 20.  The views along that stretch of road are spectacular, especially if you are traveling during when the wild rhododendrons are blooming at the end of May.  If you are traveling to Sequim from the Hood Canal Bridge, just stay on the main road after you get off the Bridge.
Sequim is a small farming town situated between the base of the Olympic Mountains and the Strait of Juan de Fuca.   It has an active farming community where you will find small cattle farms, dairies, lavender fields, and organic vegetable farms.  It is the Lavender Capital of North America and home to the Sequim Lavender Festival each July.  You can visit several lavender farms year-round: Purple Haze Lavender and Jardin du Soleil, as well as lavender stores on the main street in downtown Sequim.
Sequim owes its farming success to irrigation.  Each year, during the first half of May, Sequim hosts The Irrigation Festival, which is the longest running festival in Washington.  The Grand Parade, arts and crafts festival, 5k run, and carnival are highlights.
Like Port Townsend, Sequim is blessed with an abundance of good food.  Be sure to visit Nash's Farm Store on Three Crabs Road. Nash Huber has been instrumental in founding and nurturing the farm-to-table and organic foods movement on the North Olympic Peninsula.  Years ago, Nash began organic farming.  Over the years, he's partnered with other farmers and property owners to lease fields throughout the Sequim area to grow organic vegetables that he sells at his Farm Store, as well as at farmers markets and fine restaurants throughout western Washington (look for him at the Ballard Farmers Market and the University District Neighborhood Farmers Market – in Seattle).  He also grinds his own grains for flour and has local, grass feed meet and pork.  You can also find roadside produce stands and several places that sell eggs.
There are several good places to eat in Sequim.  For tacos and a beer check out Jose's Famous Salsa downtown.  The prices are very reasonable and there is indoor and outdoor seating.  It is great for a quick bite.  We also like Pacific Pantry on Sequim Avenue.  Be sure to try their smoked meats and stock up on picnic essentials.  Our all-time favorite restaurant anywhere is Alder Wood Bistro on Alder Street.  Chef Gabe and his wife, Jessica, have been feeding and nurturing Sequim residents and visitors with their farm-to-table organic restaurant since 2006.  They use locally sourced, seasonal foods which means that every time you dine there you will see something new and unique on the menu.  Some of their producers have such limited supplies of goods that they only sell to Chef Gabe, which means you get to eat food that you would never be able to find in Seattle.  In fact, I'd put Chef Gabe up against any chef in Seattle.  He is an absolute artist.  As my best friend says "if I had one meal left to eat, I'd eat it at Alder Wood."  Be sure to check Alder Wood's website because they have limited hours and are closed in January.  Also, be sure to make reservations ahead of time as the restaurant often sells out.  If you visit in the summer, be sure to request a seat in the garden where you'll be surrounded by beautiful plants, herbs, grape vines, and fruit trees.  As Jessica says "if you can reach it, you can eat it."  Lucky for us, we have long arms and can usually reach a cherry or two!
For a trip back in time, check out the activities at the Sequim Prairie Grange.  Our favorite event there is the Ice Cream Socials in the summer and the Christmas Bazaar, but be sure to check out their flea market and pancake breakfasts too.
Before you leave Sequim, be sure to visit the Dungeness Spit and Voice of America park.  There is a nice trail along the bluff and quiet camping area.  The big-ticket item, though, is the beach.  After a half mile hike through the forest, you're rewarded with views of the Strait of Juan de Fuca, the San Juan Islands, Mount Baker, and Victoria, BC, Canada.  You can usually see a large ship or two heading to or from the Pacific Ocean.  On summer evenings, you can often see cruise ships on their way to Alaska.  When you first see the spit, you will spot a lighthouse at the end.  If you have the time (and the tides are right), you can hike there – and I recommend that you do.  Be sure to check the tide tables and take along water and sunscreen.  The hike is 5 miles long along the sand.  It is well worth the trip.  When you arrive, you can tour the lighthouse and museum and have a picnic.  If you like, you can even book a week-long stay at the lighthouse keeper's cottage.
See more about the Olympic Peninsula in Deborah's full post about the region.