Things to do on the Olympic Peninsula
Part 3: Port Angeles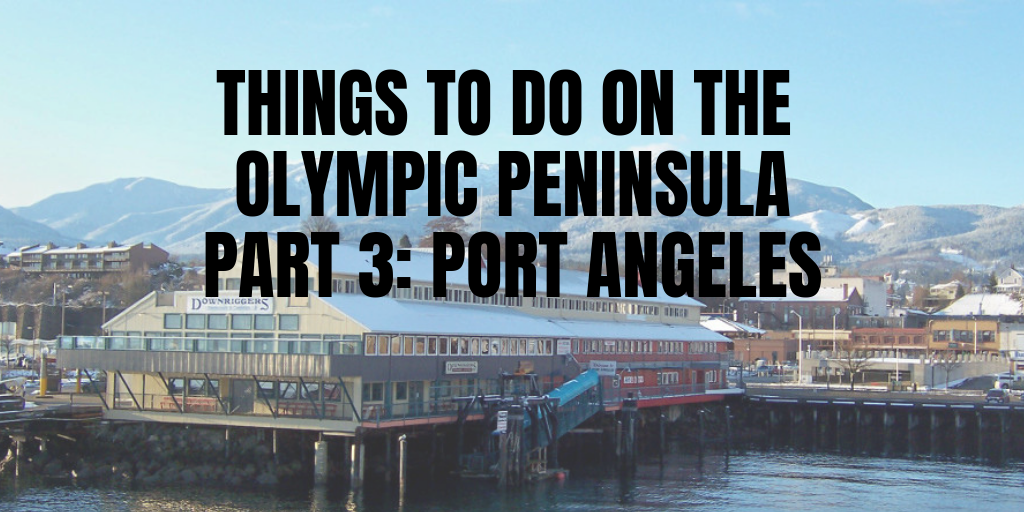 Getting to the Olympic Peninsula from Seattle
Most visitors to the Olympic Peninsula arrive from Seattle.  To get there, take a ferry from Seattle to Bainbridge Island or Bremerton or from Edmonds to Kingston.  Once you get off the ferry, follow signs to the Hood Canal Bridge.  The distance to the Bridge from the Bainbridge Island and Bremerton ferry terminals is the same distance, although the ferry ride from Seattle to Bremerton is 30 minutes longer than to Bainbridge Island.  Travel time to the Bridge from the Kingston ferry terminal is shorter, but the drive from Seattle to Edmonds can be long, depending on traffic, and the ferry lines in Edmonds are usually longer.
Once you get to the Bridge, you are approximately 30 minutes from Port Townsend, 45 minutes from Sequim, and a little over an hour from Port Angeles.
Port Angeles and the Olympic National Park
Port Angeles is located 30 minutes west of Sequim and is home to the jewel of the Olympic Peninsula, the Olympic Peninsula National Park.
Port Angeles is a working-class town that traditionally relied on timber and fishing.  It is also the county seat.  You can easily find whatever services you need here.  This is also the best home base for exploring the Olympic National Park.
For groceries or a snack, be sure to stop by Country Aire Natural Foods downtown.  This is a large-scale health food store with a seafood counter, espresso bar and deli, and extensive produce section.  They also have several prepared foods that are perfect for a quick supper or picnic.  If you are in Port Angeles on a Saturday morning, stop by the Port Angeles Farmers Market downtown for a freshly made pastry from Pane D'Amore bakery or buy some seasonal vegetables from Johnston Farms.  You can also find flowers, smoked salmon, arts and crafts, and a variety of produce, depending on the season.
If you need hiking or back country gear, be sure to stop by Brown's Outdoor.  They'll have what you need.  If you need camping equipment or other types of gear, check out Swain's General Store on First Street, just east of downtown.  Swain's has everything, not just what you need, but also what you didn't know you needed.
One of the great luxuries of a National Park vacation is the chance to unwind, sit for a spell, and enjoy a good book.  Fortunately, Port Angeles has a truly exceptional independent bookstore.  Be sure to stop by Port Book and News on First Street, right next door to the fountain.  We love this place!  They have an extensive collection of magazines, as well as new and used books, local books, maps, and guides, and games, cards, and gifts.  Truly independent, local bookstores are a dying breed, please be sure to stop at Port Book and News and check it out.
The Olympic National Park headquarters are located on Race Street, just south of downtown.  At the Visitors' Center, can pick up maps, guide books, back country passes, and get more information about the Park.  If you travel 17 miles south of the Visitors' Center, you will arrive at Hurricane Ridge, which is at 1 mile elevation.  There are several scenic overlooks along the way that are worth the stop.  From them, and at the top, you can see the Sequim Valley, Port Angeles, the Strait of Juan de Fuca, the San Juan Islands, Mount Baker, Victoria, and beyond.  On a clear day, you may even see Seattle.  The Visitors' Center at the top of Hurricane Ridge has a short movie, maps, information, and guided ranger hikes, as well as bathrooms, a gift shop, and a small coffee shop.  There are numerous trails of varying lengths and degrees of difficulty that leave from the top of Hurricane Ridge.
Hurricane Ridge is especially magical in the winter.  The road is only open on select weekends and always depends on the weather conditions.  Be sure to check the Park's Twitter feed for current weather conditions and be sure to arrive early because the parking lot usually fills up in the first hour or two and access to the mountain is discontinued until a sufficient number of cars have departed.  You will also need to have tire chains in your car.  You will very likely need to put them on your car at the beginning of the winter season before the road has frozen and hardened.  At the top of the mountain, you can downhill ski, snowboard, cross country ski, tube, and snowshoe.  The Visitors' Center rents snowshoes and poles, as well as some ski equipment.  We especially enjoy snowshoeing it is beautiful and is a great workout if you go any distance and/or climb up some steep peaks.  If you've never snowshoed, sign up for a free ranger-led snowshoe hike.  The Park is stunning in the winter with evergreens loaded down with snow and bright, blue clear skies.  There are few places on the Ridge where you can stand in the snow and see the Strait of Juan de Fuca and downtown Victoria, BC in the distance.  It is just stunning.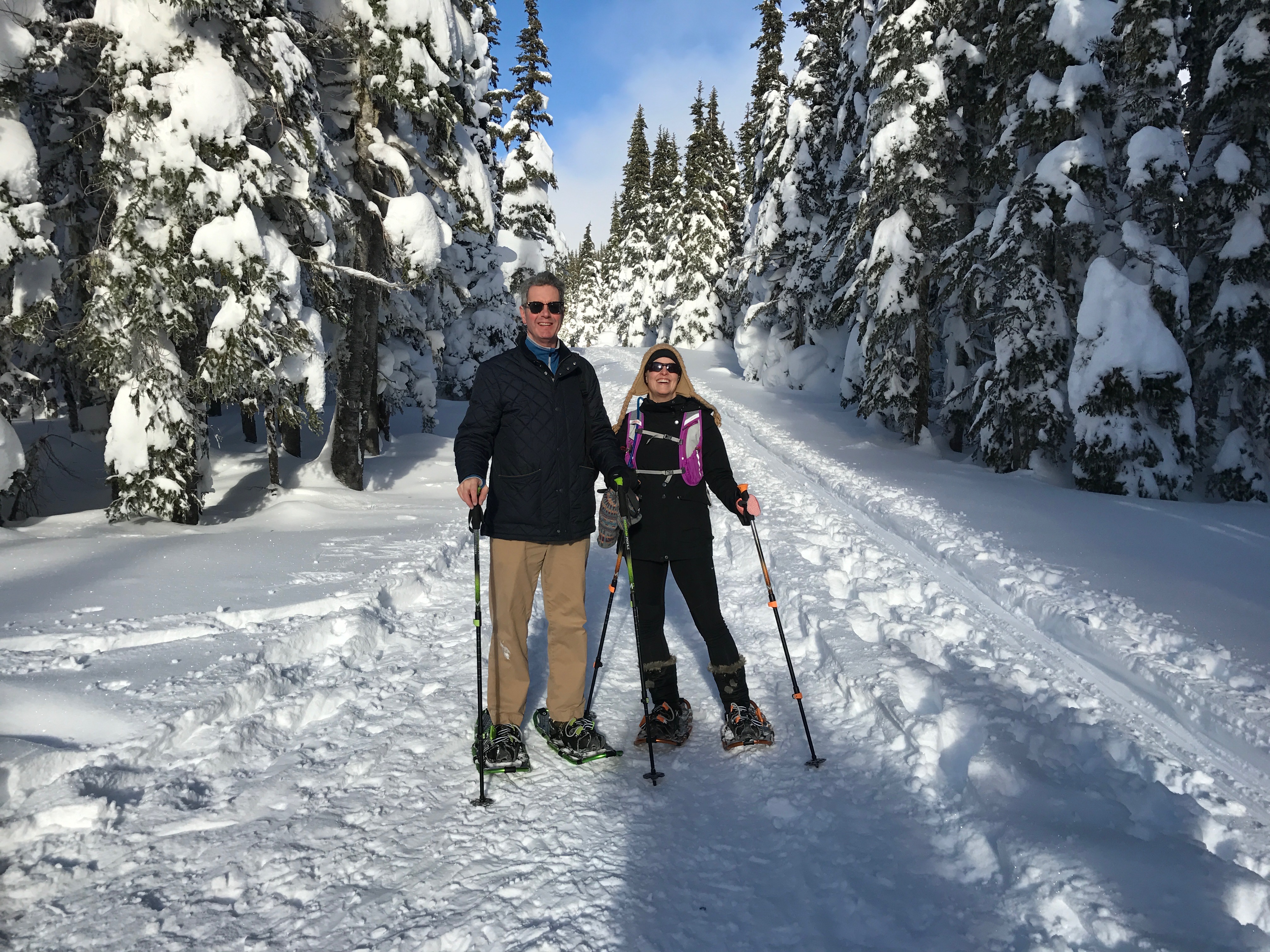 If you have the time, I recommend traveling west from Port Angeles out to La Push on the Pacific Ocean.  It will take you about 1.5 hours to get there.  Once there, you can walk along the beach or camp overnight.  If you don't have that much time, consider a visit to Lake Crescent, which is just 30-45 minutes west of Port Angeles.
Lake Crescent is a beautiful, deep alpine lake where heavily wooded foothills plunge into the crystal clear, cold waters of the lake.  US Highway 101 hugs the southern shore of the lake.  A short, primitive road goes along the east shore and a small section of the west and north shore, but there is no road around the lake.  A visit to the Lake Crescent Lodge is a must.  Check the website to make sure it is open, it generally closes in the winter, after New Year's.  You can stay or dine at the Lodge.  You can also swim, rent boats, and picnic.  In addition, the Marymere Falls trail starts at the Lodge.  This is an easy, but highly rewarding, hike to a stunning waterfall.  It will take you about 45 minutes to get to the waterfall.  There are several trails the split off this one.  If you have the time, I recommend driving along East Beach Road and parking at the Spruce Railroad Trail trailhead on the opposite side of the lake.  From here, you can walk or mountain bike to the Devil's Punchbowl bridge.  There is also a bike trail on this side of the lake that is partly paved.  Be sure to check the website for the latest updates on construction of this trail.